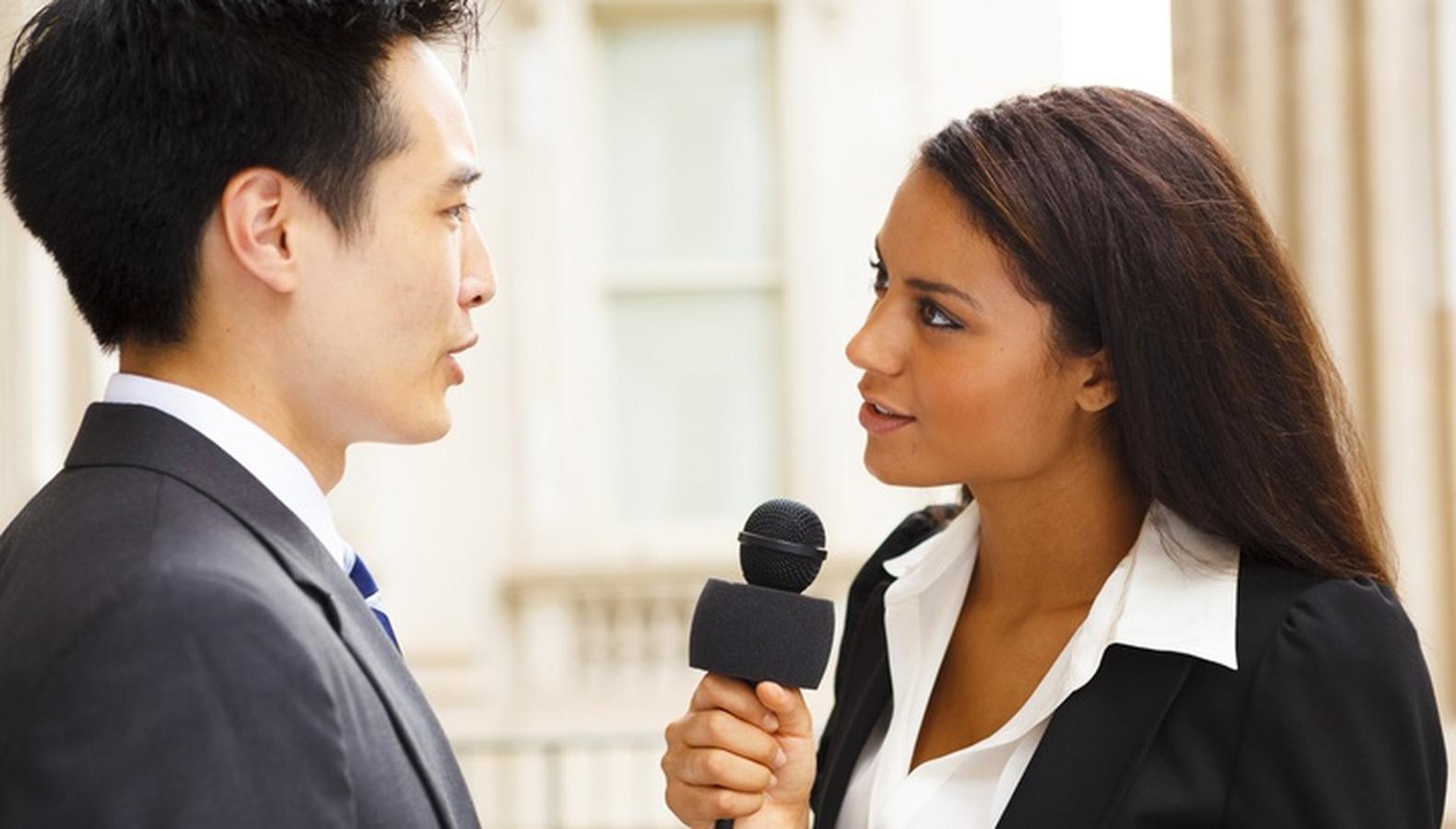 Your dream TV job doesn't just have to involve acting—there's a world of opportunity out there for television-related jobs.
You want to get out there and sign on the dotted line, but hundreds of other candidates are applying for the same on-air jobs. Some of the most popular TV job titles are news reporter, TV Host, MMJ (multimedia journalist), correspondent, on-air contributor or guest expert.

Some key ingredients to snagging that job are marketing and branding, a well-produced demo reel, a stellar on-air presence, tight writing skills, a solid voice and serious time management skills.

All of these elements are crucial to rising above the competition. I asked Mark Turner, VP of Alternative & Digital Programming at top talent agency
Abrams Artists what makes potential clients stand out:

"First and foremost, you have to have a big outgoing personality. Without that, it becomes a much tougher sell", says Turner. "Above that, in today's TV climate, it's all about having an area of expertise, which you are truly passionate about: travel, food, fashion, psychology, etc."

Turner adds, "Additionally, creating your own brand, via your Youtube channel and/or Instagram, can be a terrific way of garnering attention from both brands, as well as TV or digital networks and platforms."

Now that you know what's necessary to get noticed, where do you even begin?

Broadcasting coaches can help by offering guidance and instruction to clients on getting to the next level in their TV career. These coaches show clients how to take existing experience (or lack thereof) and package it in a way that's appealing to a hiring manager.
READ: 5 Reasons Why Actors Can Make Great TV Hosts
These coaches are a combination of mentor, instructor, producer, and confidant who can strategize a TV career plan of attack.

Here's a list of what TV host or broadcasting coaches can help you with:
BUILDING YOUR BRAND
Anyone looking to break into TV hosting needs to ask himself or herself, "what TYPE of host do I see myself resembling?" A Ryan Seacrest type of host, or an expert host?

If you're looking for a reporter or anchor job, are you going for a general Assignment reporter position or entertainment? So many things to consider before putting yourself out there! This is where a broadcasting coach can help, by sorting through a client's interests, passions, talents and strengths.

A MARKETING PLAN
Once you've established the type of jobs you are going for, it's time to get your name and brand out there! A broadcasting coach can advise how to increase your online presence, build a following, look professional, keep a clean profile, and keep followers up to date on current projects.

CRITIQUES
Many clients have no idea what level they are performing at until an on-air expert observes and offers critiques and advice on how to improve. Whether it's teleprompter reading, writing news or hosting scripts, voice and diction, or on air presence, there are so many elements to being an on-camera superstar that it's necessary to have a professional observe and provide feedback.

POLISHING UP SKILLS
Once clients have been critiqued it's time to start working on those skills. Many clients look and sound great on camera but have no idea how to create content or write a pitch, skills necessary for any newsroom and other media platforms.

Nowadays, it's crucial to be a jack-of-all trades when starting out if you want to be a host or news reporter. One must have incredible on-air presence, be a creative and factual writer, a comfortable ad libber, a videographer and editor!

A WEALTH OF INFORMATION
Broadcasting coaches pride themselves on previous, extensive experience in the fields of TV and broadcast. Over the years they collect a wealth of information such as legitimate talent agents, reputable TV and news networks, national media companies searching for fresh talent, web designers, video producers to help with demo reels and more! It would take years for newcomers to collect these reputable contacts.
See the original article on backstage.com here:
It was a sunny spring day when I got a reply from a top talent agent in LA. I e-mailed her via LinkedIn to request her consideration for representing me. I was sitting in my car thinking, wow! She actually responded to by e-mail! That must be good right? Wrong. In a nutshell her e-mail blasted me saying she wouldn't even look at anything [demo reel] over 6 months old. My stomach dropped and I knew my talent agent search would not be easy.  I remember thinking to myself, I'm lucky if I'm able to pull my footage together in 6 months!
This was a turning point for me, when I realized what I needed to do for myself, as well as my clients; provide creative, high quality material on demand and not count on freelance gigs to come along for the sake of fresh demo reel content.
Since then, I was fortunate enough to sign on with a fantastic, well known talent agency which has given me the guidance and support to keep me going through this tough business. But in the beginning, I heard just about everything from potential agents.
It's not safe to assume that you will have on-air jobs lined up consistently, never the less enough good material for a whole new reel. Some agents are flexible and work with what you have, but for the most part they want fresh material to submit.
Talent agent Mark Turner, Vice President of Abrams Artists Agency in the Alternative Programming Division says for him, "It's more about the quality of the footage. Does the person look the same and does it convey the personality, expertise or experience that's necessary to get them a job?"
"If something is 2 years old, but still looks great, you can weave it in to more recent footage", says Turner.
Some reputable talent agencies will put a reel together for their clients but other agencies count on the client to come up with fresh material and to provide them with a knockout demo reel.
I always had a hand in creating my own demo reel, and I actually prefer it that way. As any performer knows, we are our toughest critics and what one person may think is our best.. just isn't… in our eyes.
5 Reasons Why a Fresh Demo Reel Matters:
1.) It's a Small World
It's a small world. Chances are, if you were submitted for a job 6 months ago, the same casting agency/director will most likely receive another submission on your behalf. They want to see what you've done recently. If nothing new, fresh material you shot on your own showcasing you in a different light.
2.) Looks Matter
If you dyed your hair, cut it short, got a nose ring or had your weight fluctuate quite a bit, the casting agent needs to know this before considering you for a job. They may be looking for a specific type, and if this is the case, your looks DO matter.
3.) Shows Diversity and Growth
Even if you haven't landed an on-air job in over a year you have the opportunity to shoot fresh material that showcases your talent for a particular job. This allows you full control of the type of segments you have on your reel, the type of reads you want and the look or vibe you're going for. Just using what you have doesn't always cut it. Especially if the quality is low or it shows you doing breaking news when you really want a hosting job!
4.) It Makes You More Marketable
I've had hosting reels as well as broadcast news reels, and at times I've combined them. It all depends on the jobs I'm going out for. This is where the type of demo reel material really comes into play. Let's say your talent agent wants to now pitch you as a technology expert whereas before you were a general assignment reporter with a fair number of technology stories under your belt. Your agent needs to show you as the "expert". This requires more diverse video clips which makes you more marketable!
5.) Shows You're Serious About Your Career
How many times have you YouTubed hosting, news or acting reels just so you can see what others in your industry are doing? I do this at least a few times a month. I always like to research what's new, cutting edge and how I can be different! Having tired old footage, or low quality clips really gives the impression you're not serious about your career.
If you haven't worked in a while, or don't want to use the footage you have, consider hiring a professional production team that specializes in demo reels for on-air talent. If it helps land you your next job, it's fully worth the investment!
New York based photographer Barry Morgenstein has been snapping celebs since 1987. His most notable clients include Meryl Streep, Robert DeNiro, Robin Williams and Olympia Dukakis. He has even built a huge newscaster following over the years, shooting the familiar faces of both local and national news including FOX news anchor Megyn Kelly and veteran journalist Jane Pauley. "I shoot a lot of news anchors, TV hosts and actors, and they all have different needs", says Morgenstein.
Over two decades of working with a variety of talent, Morgenstein shares some insider tips for those looking to make their head shot stand out to those doing the hiring.
"If you're in news the key is to look sophisticated but not too uptight", says Morgenstein.
Here are the top FIVE things newscasters should know before the photo shoot:
Stick to bold colors. Blue and red are the most popular
AVOID white, yellow, pink or grey
Always have two different looks
A standard promotional shot (i.e. arms crossed, hands on hips)
A close-up
Male broadcasters should wear a suit and tie
Make-up should be a bit heavier than normal. Accent eyes and lips.
Morgenstein recommends hiring a professional hair and make-up artist the day of the shoot. Many photographers will offer that option to their clients as Morgenstein does. If you're an actor or TV host, Morgenstein says you can be a bit freer with your clothing and posing choices.
Here are the top FIVE things actors and TV hosts should know before the photo shoot:
Act natural- no fake smiles
Let your personality shine through
Shoot at least two different looks; a close-up and a three quarter shot if you're fit and want to show off your physique
Dress in simple, solid, bold colors. Black is also a nice, clean color choice
Men can wear a fitted t-shirt or sport jacket
"Just look relaxed", says Morgenstein. That comes from feeling comfortable with your photographer, which Morgenstein says is essential to getting that perfect shot. "If the actor doesn't feel comfortable and isn't showing their true self, then I'm not doing my job." For those pure moments, Morgenstein even adds a special bonus for his clients. Candid photographs. "As the talent is getting prepped for the shoot, and even at times throughout, I sneak some cool candid shots to capture the real personality of my client", says Morgenstein.
As an actor, TV host or broadcaster, having professional candid shots in your marketing arsenal allows you to have a leg up on the competition. Performers can post them on their website and social media. Choosing a head shot photographer is a big decision, especially since the shoot and prints can cost hundreds of dollars, so here are a few things to consider before you commit to any photographer.
Research. Look at testimonials and reviews
Check the professional's resume and experience
Meet with them. You must feel comfortable with this person in order to bring
out your best
Ask if they have any upcoming promotions or discounts you can take advantage of
Remember, as a performer it's your job to do your homework on those you hire, be smart with your clothing choices and most of all have fun the day of the shoot!
For more information on Barry Morgenstein Photography CLICK HERE.