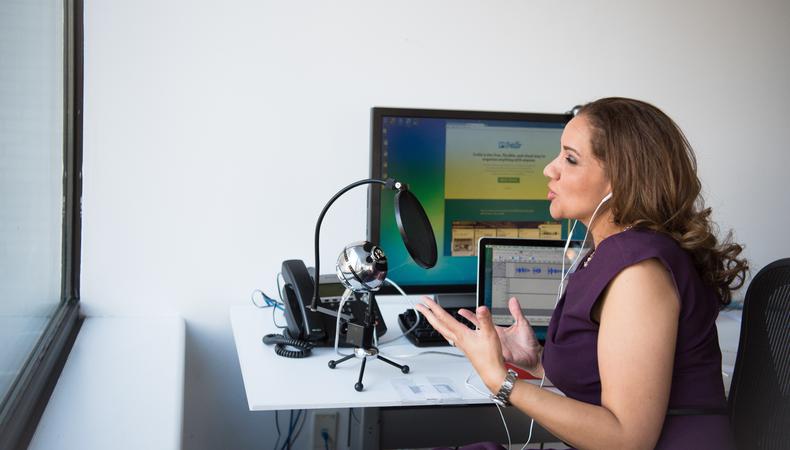 Photo Source: Photo by Christina Morillo from Pexels
In order for any actor to succeed in this highly competitive market, it's essential for key decision-makers to see them as marketable, talented, and in demand. It's typically standard for professional actors to have a solid submission package that includes a demo reel, professional clips, headshots, and online profile links. In addition, using the power of media can help boost your visibility and help you stand out from thousands of other actors.
Many actors are busy with training, day jobs, and auditioning that they don't think to include publicity into their overall strategic career plan, and if they do, they're quickly reminded that publicists come with a hefty price tag. One that most actors can't afford. Media outlets like TV, print, and podcasts are an amazing way to get seen by millions and potentially promote upcoming projects. Reporters and hosts are always looking for a human angle that can add value to their show, so with some creative pitching, media training, and persistence, you can go from unknown to a rising star in just seconds on the air. 
Here are just a few ways you can score free publicity.
1. Local and National News
Find a story trending in the news and think of how you can be the character in that story. Have production jobs stalled because of COVID-19? How has that affected you as an actor? Are you an actor who waits tables as a survival job and now can't pay your bills because restaurants have shut down?
Think of how you can add value to this story and email the producer of the show or segment. Weekend and morning show producers and entertainment reporters appreciate a well thought out pitch, one which includes a solid hook subject line, a few lines about who you are and what you do, and elements that can help tell the story visually. 
If actors want more of a promotional opportunity for an upcoming project, actors should put a digital pitch package or EPK (electronic press kit) together. Always include a headshot, a few lines about who you are, highlights of your project, and how you can add value to the segment. For these opportunities, actors should reach out to the entertainment reporter or producer for that segment. In some cases, stations have talent bookers that actors can reach out to as well.
Bonus materials for a pitch can include pre-approved video snippets or trailers of the upcoming project, photos that fit within the story, and mock interviews of the actor talking off-camera about their character and how they fit within the storyline. Be sure to always include a strong hook subject line, a few bullets of actor highlights, and links to an IMDb page, website, or online profiles. 
2. Podcasts
Podcast hosts are always looking for their next interview. Actors need to find their audience and a podcaster who already speaks to them. Podcasts that focus on TV, film, acting, entertainment, you get the idea. Actors need to reach out to these hosts and pitch themselves as a solid guest who can speak well on a certain topic, add a positive vibe to the show, and have something valuable to share with the audience.
Email pitches should include a strong hook line, a few lines about the actor, bullets of project highlights, links to their online profiles, and any previous press coverage or appearances. This shows the actor is comfortable being interviewed and can speak conversationally with the host.
3. Guest Expert Posts
Another great way for actors to gain visibility is guest posting. Actors should research what publications or digital platforms have an audience they want to reach. Choose an angle that speaks to the audience and adds value.
Actors need to think about what they can talk about passionately or offer guidance on what will leave readers wanting more. Aside from being an actor, are you a health expert, fashion blogger, social media expert? Actors have other interests that make them a well-rounded artist and offering to share those talents with the world gives them an edge that other actors may not have. 
The more credibility you have within the creative space, the more visible actors will be to key decision-makers and fans. These growing numbers make actors a marketable product in combination with their talent which is a recipe for a successful career.