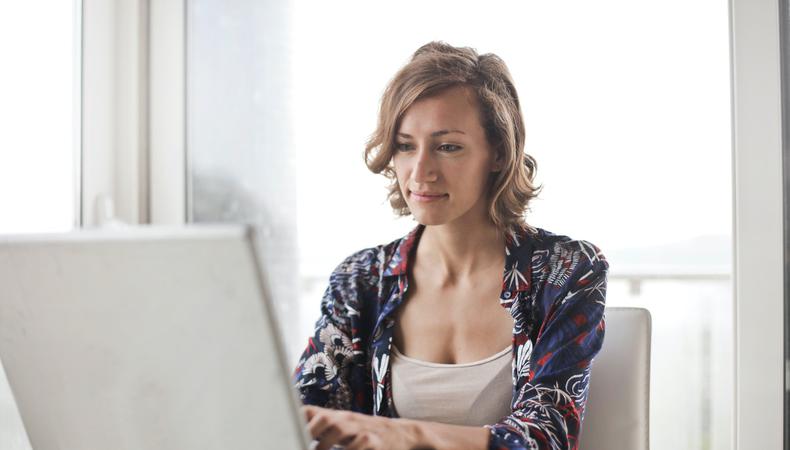 Photo Source: Photo by Andrea Piacquadio from Pexels
If you're a host or actor, you most likely have had more time on your hands than usual since production has been stalled. So what better time than the present to research the right agent for you and submit? Many talent agents are using this slower period to review submissions and check out fresh talent. That makes this the perfect time to put together and update your pitch package so you can get an agent during this period of quarantine. Here are six steps you can take to snag a rep that's right for you.
1. Refresh your résumé and demo reels.
Update your résumé and online profiles on sites like Backstage. Be sure to include and update the special skills section. You'd be surprised at how helpful this can be when being considered for a specific project. If you're an actor, make sure you have character-type headshots, clips from projects on your profiles, and genre-specific reels. Reels should be broken into areas like hosting, theatrical, commercial, etc. This makes it easier for an agent to see where you fit and what work you've already done. Your hosting reel needs to show diversity, authenticity, and charisma. Acting reels should include your strongest and most professional clips up top. Keep your reel to under three minutes if possible.
2. Update your website and headshots.
Every actor and host should have their own talent website and killer headshots. Simple websites work well and get the job done. Squarespace and Wix are wonderful DIY options or you can easily hire someone to put something together that you can update on your own. Your website will house your headshots, demo reels, social media handles, contact information, and anything else a potential agent would want to know about you. Include your online profile link so they can click and see it all in one place. Make it as easy as possible!
3.
Continue to train.

Online classes, training, and workshops are being offered on a regular basis now that everyone is social distancing. Be sure to look for workshops offered by casting directors and talent agents as they have been extremely visible online during the pandemic. Notable acting schools are also offering online options and giving deals due to the hardships caused by COVID-19. This is in an effort to help keep artists inspired, confident, and strengthening their craft. This is also a great way to connect with key players in the industry.

4. Explore and update social media.
Facebook groups are a great place to find entertainment professionals who share industry experiences, advice, tips, tools, and resources. Two Facebook groups to check out are TMFA (Talent Managers for Actors) and Hosts in L.A. These groups have a tremendous amount of useful industry insider info from veterans in the fields of acting and hosting.
You should also make sure your Instagram page is all professional and you're connecting with casting directors, talent agents, and other professionals in the field. This is a great way to engage with those who make the decisions that could help change the course of your career. Think about posting your strongest video clips in Highlights to make it easier for them to binge your best performances.
The more professional of the bunch, LinkedIn has proven to build great relationships within the industry and create a space for groups within the entertainment industry. Remember to keep all profiles consistent to avoid any confusion on who you are and what you do.
5. Find a referral (hot or warm).
Once you make a list of your top talent agent picks spread the word within your professional circle. It's likely someone you know will have some sort of connection to those agencies. If you have an industry referral it's a lot easier to get a foot in the door than for you to try and break in yourself. A hot referral is when someone will personally ask their agency to consider you for their roster. A warm referral is someone who allows you to mention them in your cover letter to the agency.
6. Construct an agent email.
Keep your email brief and respectful. Note your recent career highlights, training, credits, background, and what roles or character types you believe you are right for. Bullets are best for highlights and keep paragraphs short. Include a line or two about their agency and why you think you would make a great team. This proves you've done your research and see this as more of a partnership than a transaction. Be sure to include a link to an online profile like Backstage so they can click and see your work.
Once you have your perfect agent pitch package together, you're ready to execute. If you submit and don't hear anything back reach out a few weeks later to follow up. They may not be interested in taking you on as a client or it just may not be the best time for them to sign you. However, be sure to check their website first to see if they're currently taking submissions so you don't start off on the wrong foot.
Having all the right materials prior to submission is key to looking professional and being taken seriously as an artist. Pro tip: SAG-AFTRA and the Association of Talent Agents are two great resources to find reputable agencies.